Korpi ForRest - web application for tracking well-being
How was your day at work? Did you feel creative, focused, and full of energy? Or were you concentrating on to-do lists, multitasking, and attending back-to-back meetings? Sadly, most of us fail to prioritise our mental health, which leads to more stress, lower quality of work, and decreased productivity. The co-owners of Korpi ForRest - Sampo Pohjola and Mikko Pohjola - recognized this problem. With their mission "to create lasting mental well-being by supporting knowledge workers in becoming happier, more creative, and less stressed", they created services that help develop a healthier working culture. We had the pleasure of contributing to their solution by supporting them in improving and developing new features for their web application.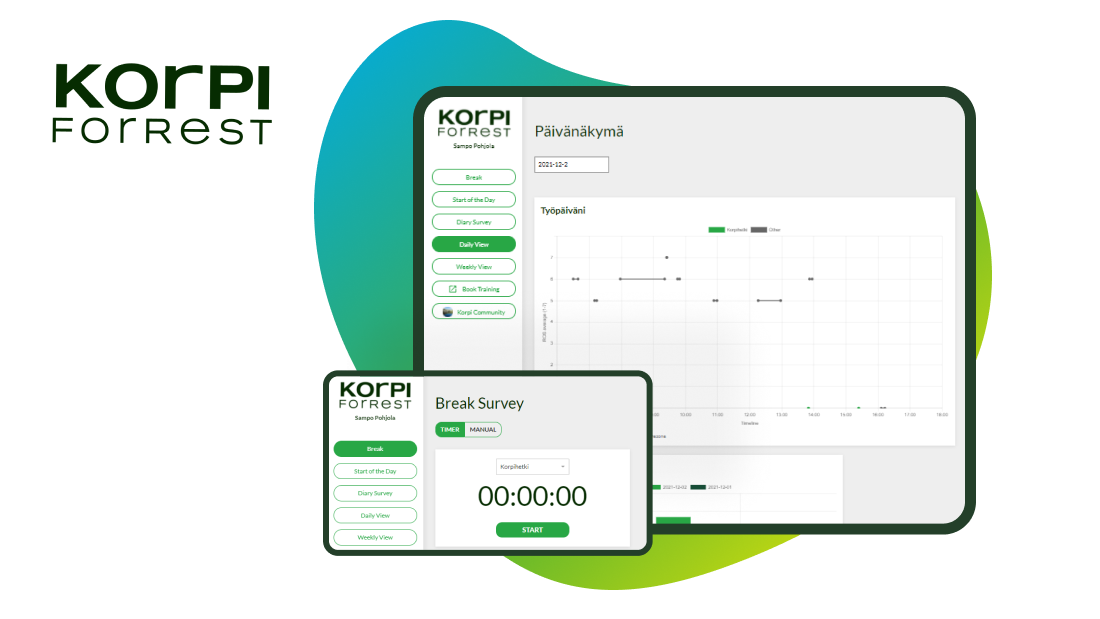 ABOUT THE COMPANY AND THE PRODUCT
Korpi ForRest, a Finnish start-up, combines nature, scientific research, and experience in the coaching and health industries to develop an innovative solution, which helps create an organizational break culture and improve employees' overall well-being. The company focuses specifically on challenges experienced in knowledge work and remote / hybrid working environments. These workers tend to experience cognitive overload due to the nature of their job, which demands strong concentration, being creative, alert, and collaborating with many people. The overload often leads to stress, mental fatigue, and burnout.
Korpi ForRest emphasises that proper recovery is critical for productivity, working quality, and overall well-being. One of the best ways to recover is spending time in nature. However, that option is not always possible for many of us, especially during working hours. Hence, Sampo and Mikko created what they call "the 2nd best solution to rest your mind". Korpi ForRest offers a variety of services, including workshops, coaching, recovery using virtual nature experience with Virtual Korpi Moments, and web application for tracking well-being. This helps manage cognitive strain, recovery, and helps to create a positive cycle to maintain overall well-being.
To read more about Korpi ForRest, check out  their website  .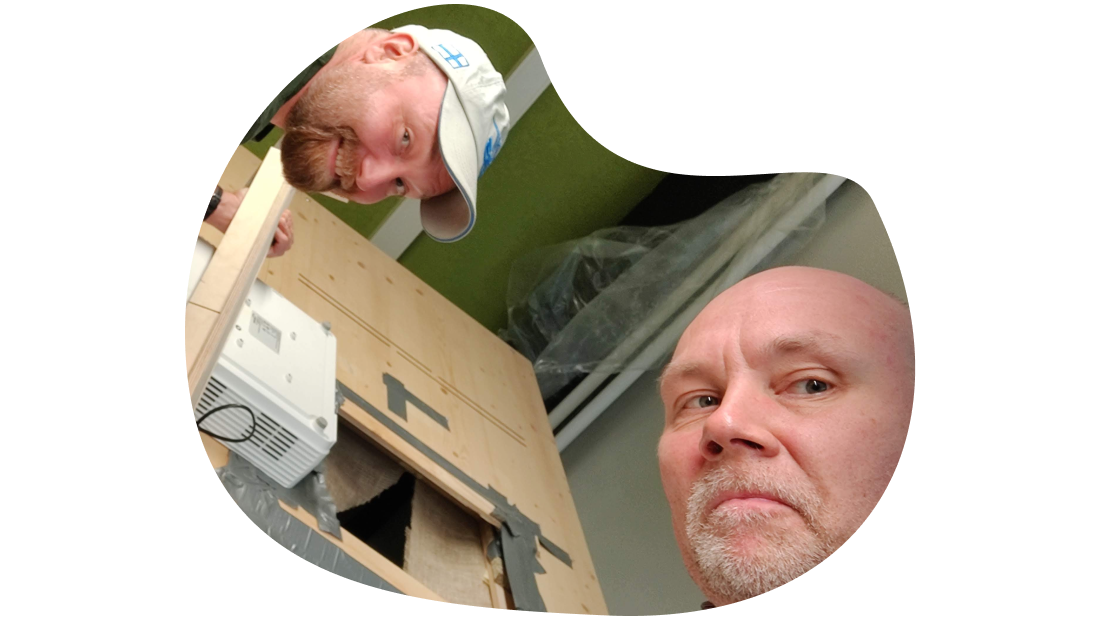 CHALLENGE & SOLUTION
The collaboration started with meeting the co-founders of Korpi ForRest - Sampo and Mikko, on-site in Turku. We were very excited about their product and their mission, while Sampo and Mikko were looking for a specialist who could support the front-end development of their web application for tracking well-being. Within a couple of days, we kicked off the project by involving our front-end developer. The collaboration was going well, and a few weeks later, our back-end developer was introduced to the project.
Our team focused on developing new features for data analysis and how it was visualized on the web application. However, when the developers started to work with the code, it became evident that to develop well-functioning new features, the code would first need to be refactored. Improving the quality of the code not only increases the application's performance but also helps to make it more future-proof, so that further development will be more efficient. At the same time, DO OK developers place a lot of importance on security as a cornerstone of any application because it helps to protect the end-users. For those reasons, the team updated the web application's security to today's standards.After completing the quality and security improvements, the team focused on adding new features, including changing how the data was analyzed and presented.
Korpi ForRest was collaborating directly with the development team, while managing the project on their side. At the same time, the client was supported by DO OK's client experience specialist. She had weekly meetings with the client and with the team to check the project's status, how the collaboration was going, and to provide support if they encountered any challenges. At one point during the project, communication issues took place, but by implementing a feedback loop and cultivating open communication, we were able to overcome those challenges together with the client. When we asked the client about how DO OK helped in resolving the issues, Sampo said:
"The DO OK team helped in various ways, for instance in giving ideas and suggestions on how to tackle the challenges. They also gave out of the box ideas and their own points of view, which was enriching. The biggest help is the open talk ". 
Sampo Pohjola, CEO and Co-Owner of Korpi Forrest, continued:
We are satisfied; if I had to put to a scale from 1-10, I would say 8. And to elaborate this number, it would be greater, if we would have been more clear on our needs and understood what we need. The first project for us, so I'm very happy that it was with DO OK as there was a culture for safe experimenting and talking.
RESULTS
The project was completed within 2.5 months of part-time development. It has been an immense pleasure to partner with the Korpi ForRest team, and to contribute towards their mission and their product. We were able to achieve the following results:
- Improved quality and security of the web application with added new features.
- The project was completed successfully in less than 2,5 months of part-time development.
- Satisfied client, with an NPS score of 8/10.
- The team was happy with the collaboration, and with contributing to a project that matters.
Project Summary
Team size
Front-end developer
Back-end developer
Client Experience specialist