DO OK Proud to be Named a Top Development Partner by Clutch
Constant challenge and learning curve. That's the attitude we take towards our team to pursue the company's mission - help to deliver life-changing software products for founders with a positive impact in mind.
Recently, we've been recognized by Clutch as one of the top custom software developers in Poland and Estonia.
Our mission at DO OK is to develop life-changing software and to help founders build their pro-people or pro-Earth products with the power of computer science. Our focus starts on a business challenge level, to navigate the customer from customer values, through value-focused discovery workshops, design to actual product development using modern web and mobile technologies.
In recognition of our success and impact, we've been awarded by Clutch as one of the top developers in Poland and Estonia. Clutch is a B2B market research firm that uses a one of a kind rating methodology to compare and contrast leaders across a number of service sectors.
We'd like to thank our outstanding clients for being the fuel behind this uplifting achievement. They took time to engage with Clutch analysts to assess our impact on a number of factors. These include our quality of deliverables and service, attention to the deadline, and the financial value of our software services in relation to our pricing.
We're happy to report we've maintained a lovely 4.6 on a five-star scale, in the reflection of our more than 20 client reviews.
Take a look at our most recent one below: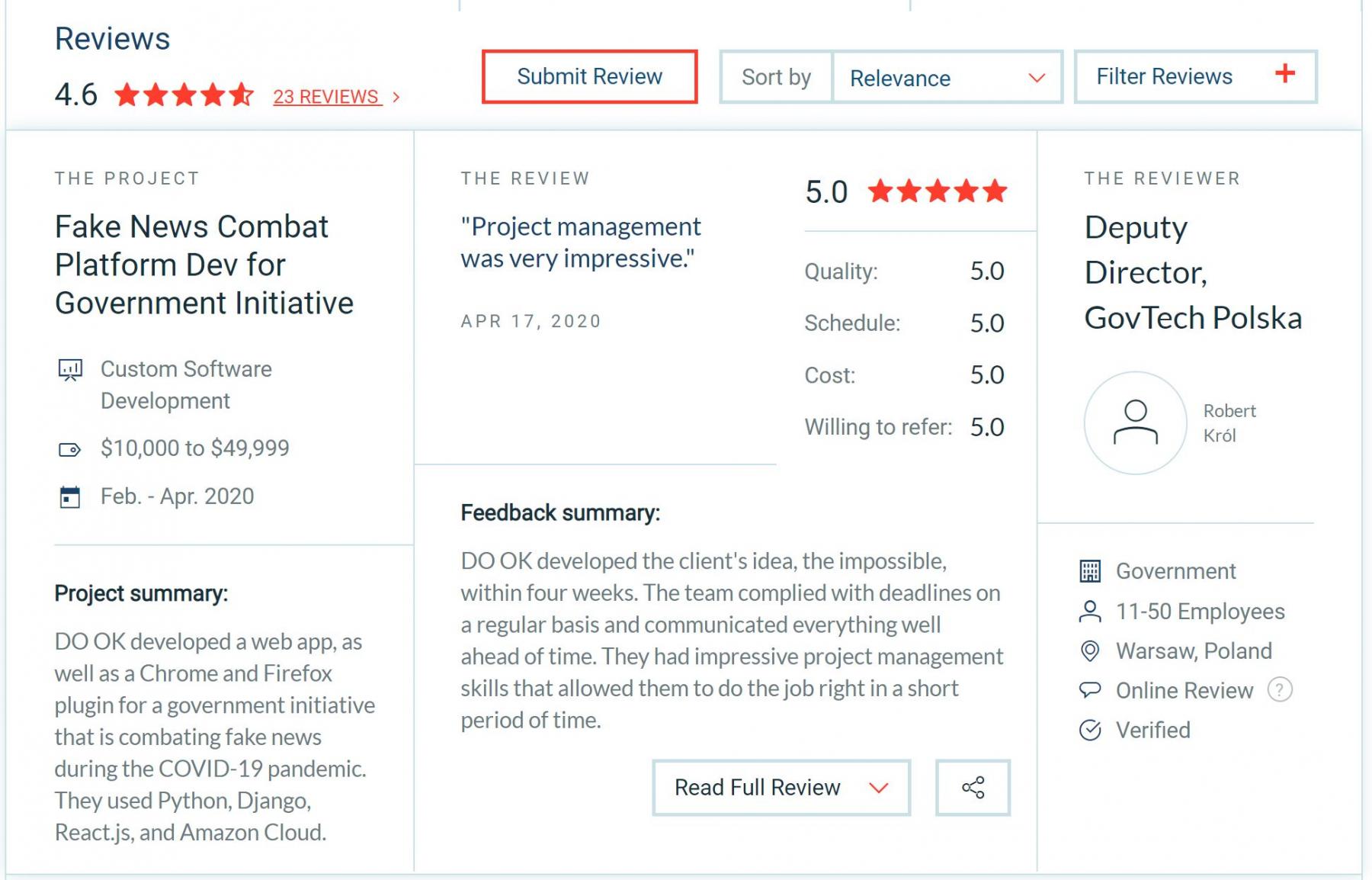 "Serving our clients has been a thrilling journey. Being named as a Clutch Leaders proves that we are heading in the right direction." – Dmitrij Żatuchin, CEO.
In addition to Clutch, we've also been recognized by The Manifest and Visual Objects, two other B2B resources. The Manifest, a business data and how-to site names us on their directory of top web app developers. Visual Objects, a company portfolio platform lists us among their top development partners in Poland.
One again, thank you to all of our clients for the trust and productive collaboration with your important projects up until now. We vow to continue to provide the same high level of quality and customer service for years to come.
Drop us a line if you'd like to collaborate on a new digital product today.