Benefits of Remote Discovery Workshops for Product Development
It's hard to overestimate the benefits of remote discovery workshops. Over the course of our work with many founders, startups and established companies building or refining more than 150 IT digital products and services, we've noticed how little understanding most leaders and project managers have of their own core values, those of their customers, and how their products fulfil those emotional needs.
As the world pivots to working remotely in the wake of the COVID-19 pandemic, running remote workshops can help fill knowledge gaps, build consensus between stakeholders, and deliver more value-driven contributions to project planning and product development.
Understanding the Online Workshop - Part 5
This article is the last part in a five-part series about online discovery, product, and design workshops driven by value. Click the links below to go back or skip ahead to the next article.
How COVID-19 is transforming the nature of work
According to the United States National Bureau of Economic Research (NBER), about 31% of U.S. workers who were employed pre-pandemic in early March 2020 had switched to working from home by the first week of April. By early May 2020, about half of all workers were telecommuting. Several months later, as coronavirus cases decline in many places, some companies are returning to business as usual. But many are not.
A Price Waterhouse Coopers (PwC) survey of U.S. executives and office workers in June 2020 found that most employers expect about 55% of their workers to continue working from home at least one day a week after the pandemic, up from 39%. Even more telling, the same study found that 72% of office workers would now like to work remotely at least two days a week.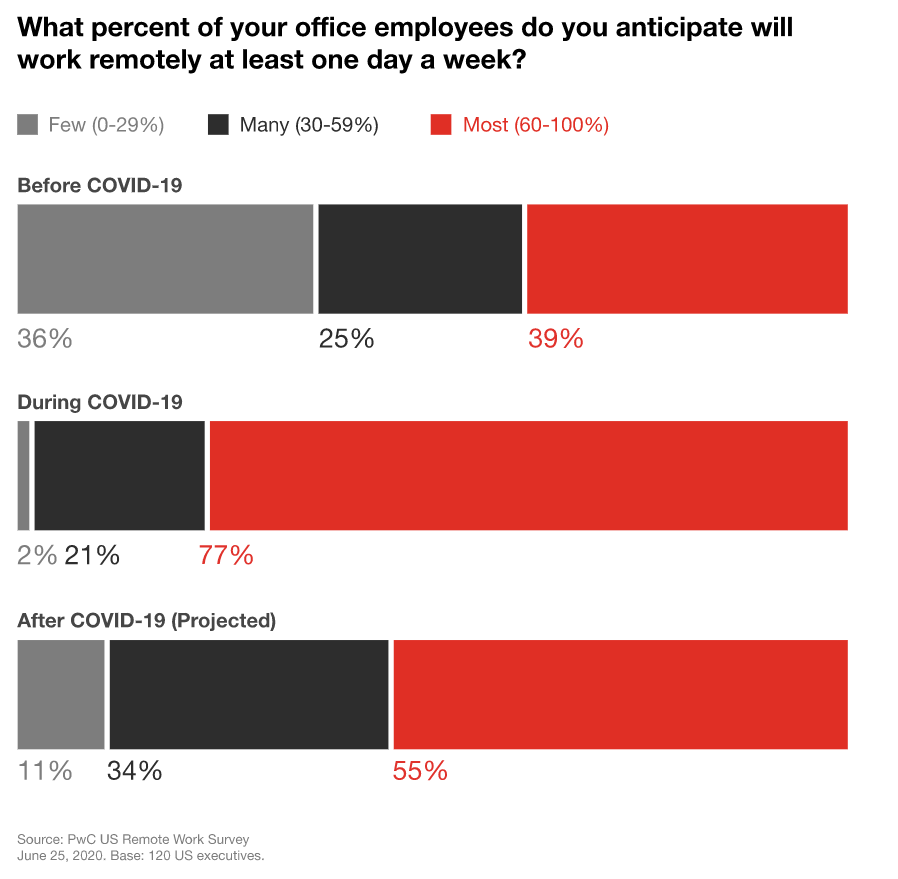 Source: PwC
Employers and employees alike are discovering the benefits of remote work, both for productivity and work-life balance. I am personally feeling tired after 2-3 hours of online work done with a team or a client, comparing to encouraging time spent before in offline with whiteboards and coffee breaks. Maybe it has to do with an energy exchange which happens during interactions with real people, or maybe connectivity technologies consume too much stamina.
Meetings and workshops, involving multiple participants and often lasting for many hours or several days, are a particular challenge even for us, who are used to digital way since 2010. These are still early days in this global digital transition, and many businesses are still figuring out how best to digitize their processes. That's why it is so important to understand when there is a proper "why" to invest your effort into a product discovery workshop.


Having a detailed, well-thought-out, researched and vetted development plan for product or service delivery can go a long way to helping it succeed in the marketplace. But there are other benefits to workshopping product design and strategy which might not be clear at the outset, such as:
Build awareness of issues that are not obvious. For example, imagine that your initial research tells you that you can bootstrap a mobile app on Firebase and make it work for up to 10,000 users. During a product workshop, you discover that assumed performance will only function up to 100 users, due to complications from other business processes.


Discover blind spots and narrow thresholds in your product roadmap. By breaking down your product or services, mapping emotional values onto critical functions, and outlining assumptions and risks, you may find that your roadmap is already covered by other competitors, or missing key functionality which could deliver more value to customers.


Show "Aha!" moments for founders and stakeholders. Even if you have a great company, product or service already ideated or competing in the market, workshops are one of the best ways to get new perspectives on your business or product, or find creative ways of solving issues that you couldn't see from the inside.


Deliver guidelines (hands-off) and guidance (hands-on/leadership). If your development plan was missing or incomplete, a workshop can help develop the planning documents you need to move forward efficiently and effectively. You can also build a clear picture of the shared values you promote as a company.
Contact our workshop team now!
Benefits of remote discovery workshops
The ultimate benefits of running a remote discovery workshop are equivalent to those of a traditional, face to face workshop. That is, workshops can help you:
Reduce production costs of your new digital product supporting your business continuity or growth strategy.


Increase production speed, which will result in a faster time-to-market of your product.


Minimize risks, issues, and complications, which influence the cost of introducing your product to the market, further support of user-base, and maintenance of the software itself.


Promote collaboration between stakeholders, who need to stay effective and efficient for further execution of your go-to-market strategy.


Deliver a complete product roadmap so you know in advance how to position your software development in the business plan, and what core assets are needed to execute it.


Online digital consulting with remote discovery workshops
By aggregating new learnings & perspectives from remote discovery workshops, you can get to the sweet spot of your journey towards project success quicker, safer, and cheaper than ever before. Alternatively, you may discover that continuing down a given path is just not worth it, in terms of time, effort, or cost, and that the current project should be re-imagined or even abandoned. As disappointing as that might be, the wasted resources and opportunity cost of going forward could be much higher.
Get in touch to find out how our value-added remote workshops and online digital consulting help boost inclusivity and shared values between team members, stakeholders, and your customers.