Time to market is more critical than in-house engineering
What is near-sourcing? How to start a development project fast without in-house engineers? Why run an on-site discovery workshop? We'll elaborate on these questions further.
Today Finland, Sweden, and Norway experience a massive demand for all engineering disciplines. Government figures show that at least 650,000 people work in ICT, rising all the time. As technology becomes more integrated into our daily lives, the need for software, hardware, web, and embedded developers grows across the Nordic region.
In addition to this equation, some available resources unfortunately only have experience with old obsolete or unfit technologies or tools - with a need for an immediate update, like with, i.e. Python 2, which is officially sunset by Python.org on January 1, 2020.
Recruiting new skills is a time-consuming process. Finding the person with adequate competencies and being a match with the team is not easy. From the perspective of the result, it is often more important to bring the new service or product early to the market than have a particular skill in-house.
Near-sourcing vs outsourcing
Near-sourcing the team of software experts
You have probably come across the word near-sourcing. It is a term derived from outsourcing, where you move the production or work on services outside of your own company and/or to another region than that of your own. With the habit of remote working coming to our everyday lives, this practice of outsourcing has reached its new peaks. The benefit of near-sourcing is that despite the team working in another country, you are working in the same time zone, and if needed, you can easily visit one another—an option to think about.
Would there be problems with a team that you do not directly employ? How about cooperation and collaboration, cultural differences or working hours? The problems are probably just as much possible as with a team of your own.
On his way to DO OK's Wroclaw office, software developer, Piotr, takes an oat milk latte. The day at work begins with a meeting. Half of the team is at the place, and some are participating remotely. The team has an idea of new features that could be added to the application the team is developing. The project owners join the meeting, Linn from Oslo and Øyvindfrom his summer house in Risor. They both love the new idea that brings the ecological aspect to the project. If needed, they will be in touch later during the day with the Norwegians using their common Slack channel or taking up an instant meeting. So the development work in Poland continues.
The pandemic has taught us the convenient and fast way of working remotely. It is beneficial to have the team in the same time zone. The working hours run about the same time, and the practice of working carries the same principles. Communication is easy and fast. Despite the physical distance, the team is just a call away. The quality, efficiency and availability of a high-quality team that works seamlessly together is a game-changer. As the former Olympic champion Aksel Lund Svindal stated: "If you have a great idea, but a bad team, you don't stand a chance. On the contrary, if you have a great team, everything becomes possible."
The best programmers in the world
According to a recent survey Poland, after Russia and China, is one of the three countries with the best programmers globally. Reasonable labour costs and attractive incentives enable high growth in the Polish ICT sector, making these resources very attractive from a near sourcing point of view. DO OK offers Front-end, Back-end, and Mobile engineering with Agile Methodology, Scrum and Kanban Frameworks to ensure that your application has a long lifecycle and matches adequate quality standards. A skilled and dedicated development team creates the opportunity for timely market entrance.
Starting a development project fast without in-house engineers
How to start the development project if you do not have a team of your own? Lack of such does not mean that you need to start planning and recruiting. There is a straightforward and convenient solution for customers without in-house engineering. You can use DO OK pre-design services like business analysis, discovery workshops, or value-driven ideation. Or jump straight to the execution and get the team of senior designers, technical architects, or software engineers to craft your custom software or a mobile app. With quality control in place, there is no fear to challenge and being challenged. With the support of project leadership, we ensure transparent and clear communication to happen. An excellent example of this is the Korpi Forrest case from Finland. ​​The collaboration started with the co-founders of Korpi ForRest - Sampo and Mikko, on-site in Turku. We were excited about their product and mission, while Sampo and Mikko were looking for a team to support their web application for tracking well-being. Within a couple of days, we kicked off the project, and in less than 2.5 months, we delivered the result.
Our client, ​​Sampo (Korpi Forrest, CEO and Co-Owner, Finland), stated:
"The DO OK team helped in various ways, for instance, giving ideas and suggestions on how to tackle the challenges. They also gave out of the box ideas and their points of view, which was enriching. The biggest help is the open talk."
Would that be possible to hire two well-oiled specialists and onboard them to the company in less than two months? Low chances.
Read a full case study about mental web application 
In the workshop, the business meets technology
What is the workshop, and why would I need one? DO OK workshops on discovering business potential help entrepreneurs find out how to validate, design, and build software solutions to get to market fast.
This well-defined and scoping phase can save you time and substantial money.
After a workshop, you will receive valuable artefacts to support your development project both technically and business-wise:
1. Validated MVP (minimum viable product) scope along with detailed backlog and critical user journeys. 
2. Tech stack recommendation and high-level architecture for building and running MVP.
3. Your business model analysed with Lean Canvas or a similar tool. 
4. Early project estimation (cost, schedule, workload) of the MVP.
5. Proposed project roadmap and team composition. 
Example of a qualitative cooperation
One of the DO OK development projects has been with Beha. We are a proud partner of Beha, the leading supplier of electrical goods and heaters with an impressive industry history of over 100 years.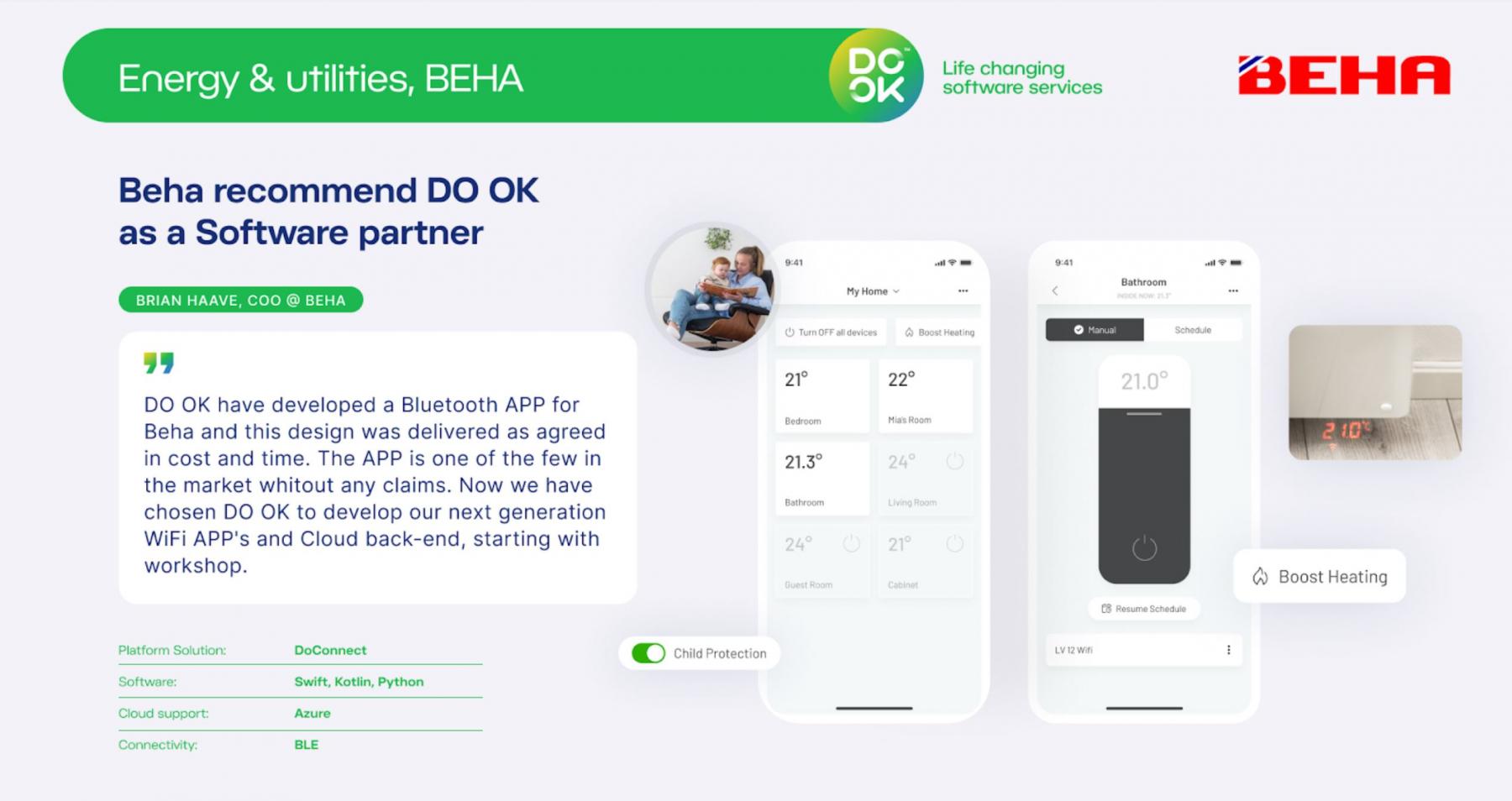 The client aims to always focus on quality and modern technology. We hire senior business analysts, UI/UX designers, and tech architects in DO OK. We have identified and scoped the needs for developing a next-generation Wi-FI app through a discovery workshop.
With 12 years of industry experience, a delivery team of over 50 English speaking engineers and product experts, and direct access to network of 25.000 engineers in Poland, DO OK has accomplished more than 120 projects with an average NPS of 9/10. Quality and security management is verified and documented by ISO 9001 and ISO 27001 standards which DO OK earned in 2021.
Working together in different countries
The headquarters of DO OK are in Wroclaw, Poland, with supportive structures in the Netherlands, Estonia, and Denmark. Close to 60% of the DO OK engineering works full time for Norwegian, Danish, Estonian, and Finnish customers.
Need a professional nearshore delivery team? Contact us!