Frankly, we try to avoid thinking about conferences as a space for sales or reaching targets. We know that founders, CTOs, VCs often seek partners with a different mindset. Software solutions services are based on trust.
We believe that helping other companies to become great means understanding their struggles, finding blind spots and solving issues to boost their growth. Sometimes we can help immediately, sometimes we can't. Even then, we always try to suggest potential solutions or find the right partner.
We are driven by a constant desire to make a difference. We help future market leaders from various industries to become top-notch players, building the right software products to reach that goal. They are our partners & lifetime customers. Thanks to them we grow, improve our skills and build further industry knowledge. That's why "sales" for me means building a long-term relationship, building value, not just short-term profits"

— Dmitrij Żatuchin, CEO of DO OK.
Our clients trust us, and we often lead projects from scratch to launching a working product. We start with proactive listening, asking questions and creating an overview of the big idea. In simple words, we're seeking the client's "why". To discover the essence of the concept we focus on both the business aspects and the best-fitted technology. We come up with a few ways to go deeper into the challenge: workshops, consulting, and business analysis.
We believe in making everyone the winner:
our clients who develop their company to become leaders in their industries,
end-users of the solution whose lives become healthier and safer, and who leave the environment in a better condition,
our team which solves difficult technical or business problems learns new things and gets the satisfaction of a job well done.
Let me show an example:
Versa
, a Dutch start-up with a passion for assets tracking. The founders noticed an issue with luggage: millions of flight passengers lose their suitcases every year. This situation causes stress for travellers, delayed flights and massive financial losses for airlines. The team at Versa had an idea for disrupting the industry by using a smart luggage tracker device. They were looking for a partner who could grasp the challenge. They came to us with any questions. We've helped them develop the solution conceptually and with technical implementation.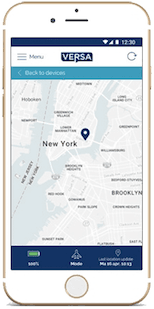 Everything begins with being responsive & respectful in communication, with mindfulness and active listening. Also, the whole DO OK team is open to learning, willing to solve the real problems and distinguish them from challenges. I advise going that way. Not the shortest path, but very enjoyable

— Dmitrij Żatuchin.
We are ready to listen to your idea. If there are any topics we share, then we'll be more than happy to help. Otherwise, we are partnered with an extensive web of experienced tech and business partners, and you can count on our recommendation.
Come to meet us at Slush in Helsinki or just drop us a line.